I know, I know. I'm just slightly behind the times with my review of this novel as well as the fact I just read it a few weeks ago. But better late, than never.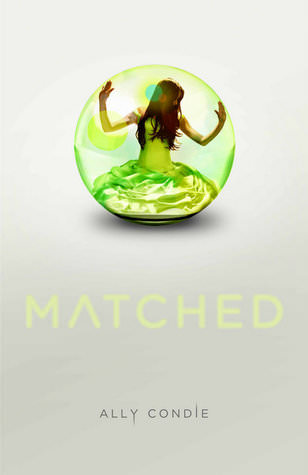 As always, before I get into my review of this novel. Here is the goodreads synopsis.
Cassia has always trusted the Society to make the right choices for her: what to read, what to watch, what to believe. So when Xander's face appears on-screen at her Matching ceremony, Cassia knows with complete certainty that he is her ideal mate... until she sees Ky Markham's face flash for an instant before the screen fades to black.

The Society tells her it's a glitch, a rare malfunction, and that she should focus on the happy life she's destined to lead with Xander. But Cassia can't stop thinking about Ky, and as they slowly fall in love, Cassia begins to doubt the Society's infallibility and is faced with an impossible choice: between Xander and Ky, between the only life she's known and a path that no one else has dared to follow.
You know a novel is going to be good when you're hooked after reading the synopsis.
My Rating: 4 stars. A great read. I loved it, but it didn't stand out enough to get a 5. I'd reread it though, and it will proudly occupy a spot on my shelf.
My Overall Thoughts/Impressions: I've been wanting to read this book for a long time. I've heard such good things about it. (Plus, even though I didn't realize it until yesterday, I've loved all of her other novels so far.)

I was hooked from the synopsis like I mentioned earlier, and I'm still hooked three weeks after finishing reading it. I'm dying waiting for Crossed to come out. I feel bad for those who have waited a whole year. :(
The novel is written in a beautiful, compelling, and lyrical style that I absolutely loved. Cassia was a character that I could easily relate to. I loved her voice, her personality, and basically everything about her.
I hadn't realized this until frequently, but a good portion of my favorite novels involve a love triangle. Nothing like a good love triangle, right?
The book met the hype I've heard about it. Definitely a novel that I'd recommend.
Some Memorable Quotes/Lines:
·
But I don't want Grandfather to think that I am marking the minutes. Marking the time until our visit is over. Marking time until his life is over. Although, if you think about it, I am marking time for my own life, too. Every minute you spend with someone gives them a part of your life and takes part of theirs. ~pg 65
·
It already feels like a different place. More haunted. A little lonlier. I think that is because Grandfather is not sitting at the window anymore. Today, he rests in bed in the living room as his body shuts down. Right on time. ~pg 72
·
I sit between Ky and Xander, equidistant from both of them. It's as if I'm a piece of metal and they are two magnets and there's a pull from either side. ~pg 228
In Summary: A great book, that is beautifully written, has a great plot line, and is one that I will definitely reread.
Warning/Side-notes: This novel is clean. There is nothing I found offensive.
The Wrap-up: I can't wait until Crossed comes out. I'm literally holding my breath. And I'm also super excited because some lucky winner is going to win Crossed and Matched. Lucky duck. I'll just have to buy two copies at once. :) Because I need one for myself.
Up next: Sweethearts by Sara Zarr....third one I've read by her this year, and not the last by any means. Anybody want to give me How to Save a Life by chance? :) I know, I know, but a girl can dream, right?
I know you guys have read Matched. What did you guys think? Are you guys as excited about Crossed as I am?
Love,
Danica Page