Hello, this is my third week being involved with In My Mailbox, a weekly blogging meme hosted by
The Story Siren
. The point is to share the books you have acquired over the week. This week I actually recieved a lot of book too (mainly books to review), so this one should be a good haul!
Before I say Goodbye Rachel Ann Nunes
(not self-published--reviewing for work)
Changing My Wardrobe by Deb Hanrahan
Beckoning Light by Alyssa Rose Ivy
An ABC Escapade through Egypt by Bernadette Simpson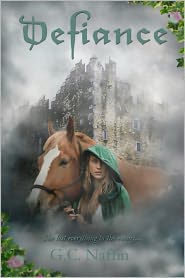 Defiance by G.C. Naffin
Heartkeeper Volume 1 by N.R.Searcy
Jake West: The Keeper of the Stones by M.J. Webb
Regarding Ducks and Universes by Neve Maslakovic
Sudden Independents by Ted Hill
The Firefow Chronicles: Shadows of Past Memories by Alexandra Lanc
The Jade Rabbit by Mark Matthews
I recieved a lot of requests to review ebooks that were self-published or published through their own publishing industries. I've never really read self-published books before, but the one I've read so far was absolutely wonderful. Changing my Wardrobe by Deb Hanrahan.
I mentioned this week's haul was mainly self-published books, which leads me to a question for you guys.
What do you think of self-publishing?
Have you read a self-published book? Have you considered self-publishing?
As for me, I haven't made up mind yet.
Well that's In My Mailbox 3. Hope you enjoy! As always feel free to leave your IMM link in the comments. I check out every single one.
~Danica Page