E.S. Lark is an author of three books: Trueblood's Plight, The Waking Grove, and Trough the Eyes of a Wolf. The Waking Grove and Through the Eyes of the Wolf came out in early September of this year and Trueblood's Plight will be released within the next two weeks.
E.S. Lark is a fantasy writer, who contributes her love of writing to her vivid imagination and her seventh grade math class. E.S. Lark actively posts on her
blog
, has her own
website
, and is active on
goodreads
.
Q & A with E.S. Lark
(This Q & A will be centered on her novel Trueblood's Plight, which I recently reviewed for this blog.)
How did you come up with the idea of Trueblood's Plight?
The general idea for this novel came about due to my passion for gryphons and a lack of books involving them. Most of the books I have found involving gryphons depict them as something that's cruel and unintelligent. I actually spent a few years role-playing on text-based mucks as a gryphon, so you could say I'm a little biased. Long story short, I wrote what I wanted to read.
The term Trueblood basically means one who can control all of the elements. As far as Ava, the main character's concerned, these skills include magic, healing and agility. She's referred to as a Trueblood throughout the novel.
Why do you love writing fantasy in particular?
Like many other writers, I started out writing fantasy. And while I've tried branching out into other genres, nothing feels as comfortable to me. When I write fantasy, I really get into my characters. They end up becoming an extension of myself and I cannot wait to get back on the computer so I can write about them.
I have a few stories on the back burner that are more contemporary. Sadly, they don't pull at me as much as my fantasy novels do, so I might only write a little here and there during my other more personal projects.
You often switched narrators within your novel. Did you have any difficulties with this? Was there one voice you preferred over the others?
To be honest, I didn't like one voice more than the other. Both Kivra and Ava play a large role in the plot, and I couldn't possibly tell the entire story from just one character. Especially when Ava's unconscious. There are a few times where I also share the point of view from a minor character, only because it has a huge impact on the plot.
After writing the first draft, I actually switched narrators quite a bit, many of them being a one-time occurrence from a minor character. So during my edits I did my best to eliminate as many narrators as possible. In the end, I finished the book with two major points of view as well as two minor ones.
How did you come up with the unique names in your novel?
Names for me are one of the hardest things to come up with. It's one thing to go online and look at the baby name dictionaries, and another to fit those names with a character of my choosing. A name needs to fit the personality of my characters.
I actually had used a few names in this novel during the first draft that are used in The Waking Grove. So when I went back to edit, I had to change some of the names, which was very hard for me.
Why did you decide to write about gryphons and giphens?
Gryphons are a huge passion of mine, and I've been writing about them in short stories for years. The basic idea for Trueblood's Plight actually came from a story I started back in 2001 called Giphen Magic. I'd only written about 10,000 words and the storyline for that was very different and rather bland. So I salvaged what I could and started writing a new novel in 2008, finishing it last year.
Are there any authors who influenced your writing?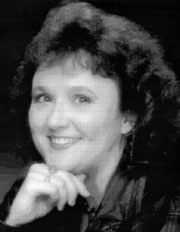 Definitely. The author I'm most inspired by is Mercedes Lackey. I've read her Mage Wars series countless times, which involves a large clan of gryphons, their human comrades and the trials they face in their word against a power-hungry mage.
The Black Gryphon is my favorite book within the series and had me close to tears by the end of it. Very few books do this for me. So when I was working on Trueblood's Plight, I continuously read back on scenes I loved, trying to figure out how I could get my voice to sound just as strong.
What do you hope readers gain after reading Truebloods?
A greater appreciation for gryphons as well as a hunger for more. When we hear about epic fantasy, we think about dragons, elves and dwarves. Someday, I hope gryphons will be among the creatures we think of when someone mentions an epic fantasy. Gryphons need more love and attention.
What do you like to do besides writing?
I love walking with my husband, taking care of our animals and gaming. Among the animals we own, we have a cockatiel named Sweetpea who I studied for countless hours while writing. I used his body language to write about Ava's emotions and how a gryphon or giphen may look when they're angry, alert or stressed.
Anything else you want readers to know about you or your writing?
Wynrith and with its characters before moving onto another project.
You can learn more about Trueblood's Plight and Wynrith on my website at
www.eslark.com
. Thanks for reading.
Thanks E.S. Lark and good luck with your sequel and writing endeavors. I enjoyed reviewing your novel and getting to know more about you.