Yes, another Wednesday blogging meme that I'm now participating in. I'm trying to reach out and connect with other bloggers, because I love seeing what they are reading and what they are blogging about. So yes, here's my first Waiting on Wednesday post.
Waiting On" Wednesday is a weekly post by Jill at Breaking the Spine to spotlight upcoming releases that we're eagerly anticipating.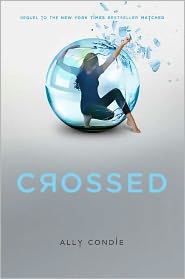 This is my second week involved in this meme. Today the book I'm eagerly awaiting is Crossed by Ally Condie
.
I am currently reading Matched and am only 55 pages in; however, for the most part, I've heard great reviews about Matched. And as always I've been hitting all things Ally Condie pretty hard lately...so I'm really excited to read this book.
The good news is that Crossed comes out on November 1, 2011...this date is rapidly approaching. Yay! I don't have to wait too long to see what happens next. I may even splurge and buy this book in hardback.
That right there is a really significant statement. The last hardback book I bought was a book in the Eragon series, so three-five years ago...wow has it really been that long.
Are you guys looking forward to reading Crossed?
And as always, feel free to leave you Waiting on Wednesday posts in the comments.
Love,
Danica Page