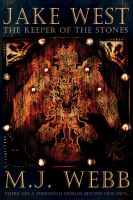 Jake West: The Keeper of the Stones
Received for Review
Goodreads Average Rating: 4.43
Before I get into my review, here is the synopsis on goodreads:
When fifteen year old Jake West and his best friend, Ben Brooker, help Jake's grandfather clear his attic of the junk he's collected from his years of travelling, the boys discover an old chest containing a beautifully carved wooden box. The box contains a set of five mysterious stones and, when they erupt to emit a bright beam of light, it sparks an epic journey which will lead Jake into a dangerous world and to the discovery of some strange family secrets. The future of our world and countless others now lies in the hands of a fifteen year old boy. If he can't protect the stones . . .
My
Rating:
4 out of 5 stars.
My Overall Thoughts/Impressions: This novel was another epic fantasy--not paranormal, and it was a nice break. I used to really love epic fantasy novels in my earlier teenage years and I know that in those years this novel is one that I would have raced to read. This novel would have left me mesmerized.
Even though I am no longer that young teen, I still really enjoyed this novel. Webb has created an interesting world and plot that will keep readers' attention. The world of Rhuaddan is plagued by an evil wizard king who is seeking the stones that Jake is entrusted to protect. That right there set the stage for conflict and tons of action.
I enjoyed the characters in this novel. Jake and Ben's friendship left me laughing hysterically. The characters didn't seem forced or stereotypically. Jake may be a strong warrior, but he didn't just fit into that mold. He was a character who took on life of his own.
Webb's writing was thorough and entertaining. Webb has crafted an engaging tale that readers will love.
While reading the novel, it is easy to see that Webb was very detailed with his world creation and character creation. He has crafted a world full of conflict, war, and intrigue that readers will want to learn more about.
In Summary: An epic fantasy novel that is well-written and an enjoyable read. Webb has set a high bar for his sequel. A book that is recommended to lovers of epic fantasy.
Warnings/Side-notes: This novel deals with wars and battles and contains violence. However, it really isn't graphic at all. It does give detail to the battle scenes, but it didn't faze me. If you don't like any violence, this novel wouldn't be the right fit. However, if the typical epic fantasy novel didn't faze you, then I wouldn't hesitate to read this novel.
The Wrap-up: I enjoyed reading this novel. It lacked the pizazz to make it a five star book, but it was entertaining and reminds me of the epic fantasy books i read in my early teens.

Up Next: Deadly Pursuit by Irene Hannon (I'm so excited to finally get to read this.)