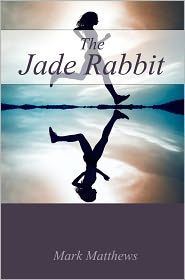 Goodreads Average Rating: 3.25
And now before I get into my review, here is what Goodreads has to say:
A female infant is abandoned by her birth-mother in a small Chinese village and spends her first ten months in an orphanage. She is adopted and raised in the United States where she becomes a social worker in order to help children in a desolate Detroit neighborhood. Her nickname is The Jade Rabbit and this is her story.

As director of a shelter for runaway and neglected youth, Janice Zhu Woodward gets pulled into the lives of the lost children of the Detroit streets. Fueled by angry parents, stories of ghosts who haunt the shelter's basement, and her own history of being left by a birth-mother who may have long forgotten her, Janice emulates her adoptive mother and becomes an avid, nearly obsessed marathoner. Training injuries, failed goals, and unexpected trauma test her will and take her to her breaking point. When a mysterious girl with dreadlocks is abandoned at the shelter's front door, Janice becomes her surrogate mother and risks everything to save her. Only a miraculous, unforgettable run through the streets of Detroit can save them both.
My rating:
4 out of 5 stars. I loved this book.
My Overall Thoughts/Impressions:
This was a book that I never naturally would have picked up to read had I not been asked to review. And I would have been seriously deprived had I not done so. This book was so good.
This book was one that blurred the lines of fantasy and reality. It caused me to feel, to think, to ponder, and to dream. This book left an imprint on me. There are some books that after reading, you are forever changed—this was one of those books for me. I'm so glad I had the opportunity to read this.
Mark Matthew's writing style was beautiful and lyrical. I loved how he wrote this story. I loved his characters and the plot line.
This novel opened my eyes and allowed me to explore a world very different than my own. This book caused me to think about myself and my own life, any book that can do that is a great book.
This book follows the story of Janice, who works at Moonlight, a shelter for runaways. Janice is a Chinese woman who was adopted into an American family married to an African-American man named Randall. I loved both Randall and Janice.
This novel represented beliefs that on the surface were very different than my own; however, it also paralleled my own beliefs so clearly at the same time. That was partly what was so incredible about this book.
Definitely worth buying and reading—this novel comes highly recommended.
In Summary:
A book that I absolutely adored. Definitely isn't young adult book; however, I think that this book would appeal to people of all ages.
Warnings/Side-notes:
This novel mentions sex on multiple occasions, but is never graphic. It also lightly talks about abortion. However, I wasn't offended by anything in this book.
The Wrap-up:
I'm so glad I read this book. It was beautifully written and I absolutely adored it. A great read and one that comes highly recommended. Go buy it now! You won't regret it.
Up Next: Steel by Carrie Vaughn