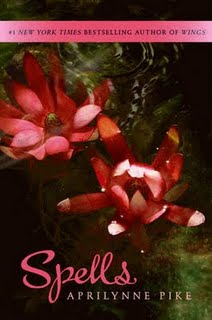 Goodreads Average Rating: 3.96
Before I get into my review, here is the synopsis on goodreads:
"I can't just storm in and proclaim my intentions. I can't 'steal' you away. I just have to wait and hope that, someday, you'll ask," Tamani said."And if I don't?" Laurel said, her voice barely above a whisper."Then I guess I'll be waiting forever."
Although Laurel has come to accept her true identity as a faerie, she refuses to turn her back on her human life—and especially her boyfriend, David—to return to the faerie world.But when she is summoned to Avalon, Laurel's feelings for the charismatic faerie sentry Tamani are undeniable. She is forced to make a choice—a choice that could break her heart.
My Rating: 4 out of 5 stars.
My Overall Thoughts/Impressions: I finished reading Wings and I immediately wanted to read Spells and so I checked it out from the library. Thank goodness for libraries or else I'd be broke. :)
I was enchanted after reading Wings and Spells wasn't an exception. Spells explores the land of Avalon. I loved getting to know more about Tamani. Yes, I know David is so great, but I love Tamani. What? I never like the good guy when it comes to my novels.
In this novel, Pike really wove together a fascinating tale. I am excited to read Illusions, the third in the series. A great paranormal tale that I'm interested in seeing its progression in the upcoming novels. I'm so glad I had a friend who kept pestering me to read this series. Thanks it's great.
In Summary: A great sequel that caught my interest. I loved Wings and Spells didn't disappoint. If you love clean paranormal novels, or just paranormal novels at all, then this is the novel for you.
Warnings/Side-notes: This novel is really clean. It alluded to some drinking, but that really doesn't bother me. Slight violence, but really this novel is pretty clean. I wouldn't hesitate to recommend this to anybody.
The Wrap-up: If you love paranormal romances this is a novel for you. Plus it has a great love triangle, I almost always love a good love triangle.
Upcoming Review: Fade by Lisa McMann
Happy reading! Have you read this novel? And if so, what did you think of it?