Hello Readers,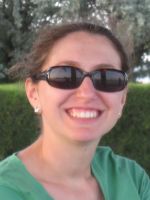 Today I'm pleased to have fantasy author Alyssa Rose Ivy here on the blog. Before we get into her spotlight, I'd like to say thanks Alyssa for writing this guest post and allowing me to review your novel.
And here's a little bit about Alyssa. Alyssa is a fantasy author who lives in North Carolina. Beckoning Light was Alyssa's debut novel and was released in July 2011.
I loved Alyssa's novel and definitely recommend it to anybody, especially fantasy lovers. A really cute read. You can follow Alyssa's blog. And she might just have a few freebie kindle editions of her novel if you happen to be one of the next three people to comment on her post. :)
And now let's get into her guest post.
When the Characters Write You
All writers have their own methods for beginning the writing process of a book. Some start with the setting or the basis of the plot, I almost always start with the characters. Beckoning Light started with a dream, but the scene from the dream never made it into the book—only Charlotte and Calvin did. There was just something about the quiet girl that pulled me in and suddenly she took on a life of her own. In that life she had an older brother, Kevin, and I realized almost instantly that Kevin had his own story to tell. The setting and plot all fell in place around the siblings and before I knew it I had a book. It might sound crazy, but for me, it sometimes feels like the characters are really the ones writing and I'm just along for the ride.
For those of you who write, how do your stories develop?
A very interesting post, Alyssa. As for me, I tend to find that I usually see a character first engaged in some action that intrigues me and next thing I know that character takes on a life of their own. However, I have had a story idea come from three words before...that was unique.
I agree with your statement that sometimes it feels like the characters are really the ones writing and you're just along for the ride. That's so true.
Thanks once again!
~Danica Page