Hello Readers,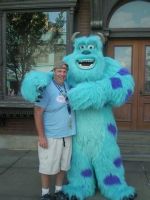 Today I'm pleased to welcome author Ted Hill to the blog. Ted Hill wrote Sudden Independents, a novel with I reviewed a few days ago. So if you haven't already, go read my review.
Ted is going to talk a little bit about characterization. So please give him a warm welcome, and thanks Ted for agreeing to do this post.
Without further ado, here is Ted's post.
I love writing stories through multiple viewpoints because those are the stories I enjoy reading the most. Different perspectives create a vast, diverse, complex world and I believe a larger story, like my own Sudden Independents, feels more alive when looked at through a broader scope.
Characterization is vital to any tale, but especially when juggling different heads in a story. You don't want to lose a character and you certainly don't want one to become invisible or paper-thin. You also don't want a B-list character jumping up on stage, thinking he's made it to the A-team. I've got one of those in my story. His name is Samuel and he craves attention.
I tell my story through four individual voices, and I love each of them dearly.
*Hunter is the first you meet. He's the young hotshot who thinks he knows it all and doesn't want to listen to what big brother has to say. Hunter is vain, self-centered and cocky as all hell. He's also the one that can surprise you with sudden moments of absolute clarity in situations. He knows his part and he plays it straight.
*Jimmy is Hunter's older brother. He's tall, thin and always wears a baseball hat. He's a hard worker, and that's not saying he's good at keeping busy; hard work defines Jimmy down to his core. He's also a bit of a worrywart, but that might have been caused by the deaths of everyone he ever knew from a terrible plague.
*Scout is the soul of the story. He and Hunter are parallel opposites: they're on the same path, but they go at it in different ways. Scout is the poor kid from the inner city who is now living in a much larger world. He didn't have a lot growing up, except his faith in God. Since the plague, he picks through the dead, taking what he wants, and it's killing his spirit.
*Molly rounds out the voices. Dear, gentle, misunderstood Molly. Just stay out of her way because she's chipped a nail and she doesn't have time for the likes of you.
What makes a good character? Try someone you know. People you know rub off on you in ways you'll only discover through writing. Take an aspect of your best friend's personality. Dress some random character in the cloak of your best friend and take her out for a walk, have her buy a cup of coffee, make her clean up the dog poop in the backyard. Knowing your best friend, how does she react? Does she get down to business, does she push the poop around, does she tell you to get bent and pick the poop up your own damn self?
All my characters have aspects of me crawling around inside them. How could they not? I gave birth to them, and like real children, your characters will take your DNA and make your stories happen.
In the end characterization is more than hot, thin, blond, and angry. It's what they do that defines them as characters. As much as Hunter plays the bad boy, he also saves the little girl. As responsible as Jimmy is, he still can't find the courage to tell someone he loves her. As hopeless as things are, Scout never gives up. And Molly, well let's just say it's going to take a miracle to fix her.
Thanks Ted for the great insights you shared.
For those of you who write, how important do you feel characterization is? And how do you create your characters?
For those of you who read, how important do you feel characterization is to the story? Do you know the difference between flat and multi-dimensional characters?
As always, have a great day!