Top

Ten Tuesday

is an original feature/weekly meme created by

The Broke and the Bookish

featuring a new top ten list each week. Everyone can participate just head on over to their blog and sign up. Each week they will post a new top ten list that one of our bloggers at

The Broke and the Bookish

will answer. Everyone is welcome to join. All they ask is that you link back to

The Broke and the Bookish

on your own

Top Ten Tuesday

post AND add your name to the Linky widget so that everyone can check out other bloggers lists! If you don't have a blog, just post your answers as a comment. Have fun with it! It's a fun way to get to know your fellow bloggers.
Alright I've decided to continue my theme of picking books that I feel like not enough people have read or ones that are simply too-good not to have read.
10. Divergent by Veronica Roth
T
his book came out in May of this year and so it's still fairly new. I read and loved this book. I reviewed this for two places and each time I reviewed this book I remembered more things that I loved about it. Definitely a great gift for all those who love YA Dystopian novels.
9. Academy 7 by Anne Osterlund
I love this author and not nearly enough people have heard of her. I love her books and her writing style. This is a sci-fi, adventure, young adult romantic novel that I loved.
8. Changing my Wardrobe by Deb Hanrahan
I received this one for review and I absolutely loved this one. This is a beautiful tale of growing up, facing bullies,and accepting who you are. An incredible book. My review is here and my interview with her is here.
7. Story of a Girl by Sara Zarr
I loved loved this book too. I was hesitant to read this one after reading the synopsis, but what was I thinking. This is a beautiful book from an extremely talented author who more people should read. A great book about love, loss, and growing up.
6. The Kite Runner by Khaled Hosseini
A beautiful book. Definitely not a book for everybody (because some would be offended by it), but one that I think everybody should read. A beautiful beautiful book that I loved. My thoughts on this book are here.
5. Sarah's Key by Tatiana de Rosnay
A very sad book, but also a beautiful and uplifting book. This book detailed an event in history that I had never heard about and since I consider myself a history buff...I was stunned. Once again my post on this book is here.
4. You are Special by Max Lucado
Yes this is a picture book, but one that everybody should read. Yes, everybody. It has a great moral message, the paintings are cute, and it is simply great. Especially fitting for this holiday season.
3. Night by Elie Wiesel
I read this in my high school and it really opened my eyes. A great read that everybody should read. Yes, it's another Holocaust book, but we can't just brush over that even and forget it happened. It is really important that we understand what happened...and this book depicts what happened really well. Also try The Book Thief, The Hiding Place, and Number the Stars (children's book). They are all great.
2. Wings of Refuge by Lynn Austin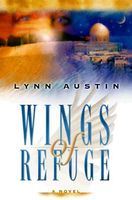 The points brought up in this book have stuck with me ever since I finished reading it over a year ago. I still can remember the entire plot of this novel and the way it made me feel. This book is powerful and moving...and eye-opening. This book made me realize the struggles in the Middle East and helped me understand the problem. Definitely wroth reading.
1. The Little Princess by Francis Hodgson Burnett
This is such an inspirational book. I loved loved loved this book. It's a timeless piece that everybody should read.
Well that's all for my post. Those are the ten books I want to give as gifts, because everybody should read them.
What about you guys? What ten books do you want to give as gifts?
Please feel free to leave your link in the comments. I love seeing what you guys pick as well as reading your comments.
Love,
Danica Page