Welcome to Linky Followers Blog Hop! This hop is co-hosted by
Stressed Rach
,
Beauty Brite
,
Asha's Butterflys
,
Its a Pen Pal World
and
Carole's Ramblings
.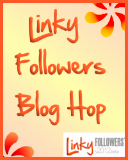 I am very excited to be involved with this blog hop. Here is what the hosts have to say about this blog hop:
We all know GFC has gone from non blogger hosted blogs now and will very soon be retiring from blogger to.
Linky Followers is very similar to GFC that is why we have decided to use this as an alternative.
Why not join us and get your own Linky Followers button on your blog.
All you need to do is sign up!
Link up to our Linky Followers hop! Before linking up, remembering the following:
1. Make sure you have Linky Followers on your blog. You can sign up here.
2. Link up your blogs so we can follow you.
3. Visit and follow as many blogs as you wish!
4. Be sure to leave a comment so everyone can visit and follow you in return.
4. Don't forget to share this hop on Facebook and Twitter, which in turn helps more bloggers find this hop and increase our followers!
Linky is open all week, so visit often.
I don't really know what to think about the gfc stuff; however, I use this tool and love the linky followers idea. So if you'd like to join me in the blog hop, or even just follow me through linky followers. Feel free to do so. I'd love that.