Hello Readers,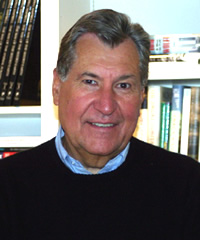 Today I'm pleased to have Gary Slaughter back on the blog. Earlier this week, I posted a review of his novel Cottonwood '45. That review can be found here.
Gary is the author of the Cottonwood series and has published five fictional books within this series. I have only read this last one; however, I thoroughly enjoyed reading it.
Gary has graciously agreed to answer some few questions for me.
Why did you want to write about World War II?
Aspiring novelists are always advised to write about what they know. When I was growing up on the World War II home front, everyone talked about the War. We read about it in our newspapers. We watched it at the movies. We heard about it on the radio, from the pulpit, at school, and around our kitchen tables. Since that time, I have been fascinated with everything associated with the War. For that reason, I chose the World War II home front as the setting for my Cottonwood novels.
What do you hope readers take away from your novel?
Cottonwood Summer '45 is my fifth Cottonwood novel. Initially I hoped that readers would learn what it was like growing up in America during the 1940s as compared to today. My view of that period is colored by a profound feeling of longing and nostalgia for that simpler, gentler time. Because of the War, this was also a period when the vast majority of Americans didn't feel the need to apologize for being super-patriotic. Because the stories I tell are replete with mystery and humor, Cottonwood fans enjoy being thoroughly entertained while learning the history of this era.
What was the hardest aspect about writing this novel?
The most difficulty aspect of writing this fifth
Cottonwood
novel was creating truly original and unique storylines to satisfy and entertain fans who have read my preceding four novels. The first four novels were set in Riverton, Michigan. In this novel, Danny and Jase, the main characters of the Cottonwood series, travel to Nashville where they spend ten days observing the attractions of that city in 1945. This novel required considerable research to ensure the accuracy of my descriptions.
What was the most rewarding aspect to writing this book?
Like the other four novels, the enthusiastic and positive feedback from reviewers and readers has made the incredible investment of time and energy of both my wife (who is my editor, researcher, and event coordinator) and me all worthwhile.
Why did you choose to write about eleven-year-olds?
Danny and Jase are my favorite kind of characters. They are precocious, uncommonly wise, and funny. Moreover they possess an uncanny knack for exposing pompous and pretentious adults. And they have devoted their lives to protecting and defending their neighborhood, their hometown, and their country from the bad guys. Reviewers have called them, "This generation's Tom Sawyer and Huck Finn."What more could you ask of two eleven-years-old boys?
Why did you choose to include such quirky characters?
Again, I wrote about what I knew. During the 1940s, my old neighborhood was filled with unusual characters. First it was melting pot of nationalities. You could walk down the street and hear a dozen different languages spoken. We had a mission church where a motley collection of transient hoboes assembled each night to sleep off the effects of the cheap wine sold at our neighborhood grocery store. We even had permanent "neighborhood bums" whom we nurtured and protected because we loved them. And of course there were the ever-present, German prisoners of war who worked at the canning factory right in our neighborhood.
What's one thing you want readers to know about your book?
This book is a timeless tale to be enjoyed and shared by readers of all ages.
What's one thing readers should know about you?
Even though my list of professional publications spanned four, single-spaced pages, I had never written fiction before my first Cottonwood novel. The dozen years of my fiction-written career have been the most enjoyable and rewarding years of my life.
Is there anything else you would like to add?
As Danny often declared, "All's swell that ends swell."
Thanks and I definitely agree a comparison to Tom Sawyer and Huck Finn is definitely not out of order.
I hope you've enjoyed Gary's post as much as I did and thanks once again for answering my questions, Gary.