Hello, this is my nineteenth
week involved with In My Mailbox, a weekly
blogging meme hosted by
The Story Siren
. The point is to share the books you have acquired over the last little while.
I haven't done this since March...wince. I've been receiving a book nearly every day lately, but I'll only share the ones I've recently received.
Books I received for review from work:
Endlessly by Kiersten White- I'm supposed to review this one for work; however, I did share an unofficial review here on the blog. My review can be found here. This one was incredible. The perfect way to end the series.
Ten Girls to Watch by Charity Shumway-Another novel I received to review for work. I hadn't heard of this one before. The cover is really interesting. It looks really cute. Definitely one I'm excited to read.
Books I bought:
Love Me to Death by Allison Brennan- I saw a book in this series on somebody's WoW post and after reading the synopsis for the first one in the series I had to read it so I got if off amazon for practically nothing. A very intense read that I adored. Definitely recommended for fans of thriller/mystery/suspense novels. A little edgy so for adult readers.
I also bought a lot of books on forensics, because I'm quite interested in that subject. But as I doubt many of you are, I won't bore you with those details.
Lethal Legacy by Irene Hannon-This one came this week and I was so thrilled because I love this series. I started the reading the second I got it in my mail. Loved it. This novel was a great conclusion to the series. Review forthcoming.
Books I received from Netgalley:
In Between by Tara Fuller- I normally don't read this genre, but this one just looks so good and caught my interest form the moment I read the synopsis. So I'm definitely excited to get to this one.
Confessions of an Angry Girl by Louise Rozett- This one looks interesting and I love the cover. So I thought I'd give it a try.
All You Never Wanted by Adele Griffin- The title caught my eye and then I read the synopsis and cover. Is it just me or does the cover look really creepy? This one caught my interest and so I decided to give it a try.
Books I received for Review: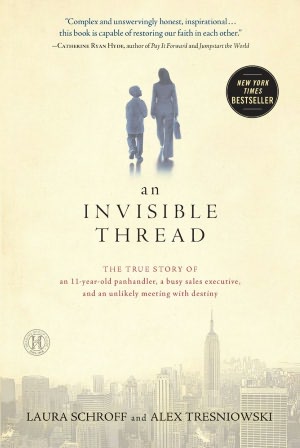 Invisible Thread by Laura Schroff-
I received this from the publisher, Howard Books (a division of Simon and Schuster). This is non-fiction, but it just looks so good.
An Invisible Thread tells of the life-long friendship between a busy sales executive and a disadvantaged young boy, and how both of their lives were changed by what began as one small gesture of kindness.
After reading that tagline, I knew I had to read this one so I agreed to review it. It looks really good.
Hacienda Moon by KaSonndra Leigh- I thoroughly enjoyed reading When Copper Suns Fall by her and am excited to see what she does in this novel.
That's it for me.
What did you guys get this week? Feel free to leave your link in the comments. I read every single one.


~Danica Page