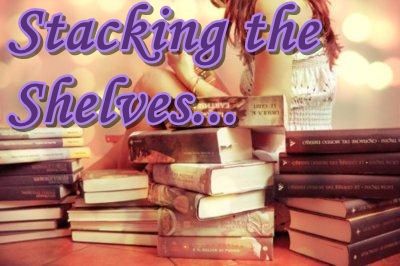 Hello Fellow Readers,

This is my twenty-fifth time doing In My Mailbox and Stacking the Shelves. IMM is a meme hosted by Kirsti from The Story Siren and Stacking the Shelves is a meme hosted by Tynga's Reviews.
The point of this meme is to share what books you received in the previous week through any medium.
Books I borrowed from the library:
I've been really thrilled with my library lately. I've been getting several good books.
YA

Everneath- I have heard mixed things, but for the most part
everybody
seems to love this one, so I figured I'd give it a shot.
Tiger Lily-I've just been dying to read this one. It sounds/looks
incredible.
Plus, I've heard good things.
Books I
received for review:
Fifteenth Summer by Michelle Dalton
(Edelweiss)-YA
Secrets by Robin Jones Gunn
(Multnomah Books
)- Adult
A Touch of Scarlet by Eve Marie Mont
(Netgalley)- YA
Out of Sync by Amanda Humann
(Netgalley) YA
Dangerous Stage by Camy Tang
(Zondervan) Adult
Safe Haven by Jean Matthew Hollbrook
(Deseret News) Adult
Ordinary Grace by William Kent Kruger
(Simon and Schuster) Adult
The Time Between-It just looked so interesting and I just felt so drawn to the book.
Fifteenth Summer-I just really love Ya and this one looked intriguing. I can't wait to start it.
Secrets-I've actually read novels by this author before. They were good,not my
favorite, but good. I can't wait to see what this series is like.
A Touch of Scarlet-Um I love The Scarlet Letter, so enough said.
Retellings of classics always make me nervous, but I'm excited to read it.
Out of Sync- I love soccer because I was a soccer player up until I killed my knee.
I can't wait to read this one either.
Dangerous Stage-I bought the first one in the series, but haven't got to it
yet, so I was pyshced when I received the second one free.
I totally wasn't expecting to get this one either, which
made it that much better.
Save Haven-I received this one for work. I actually have to write
a professional review on this one. :)
Ordinary Grace-I was stunned when the publisher contacted me
and asked if I wanted to review this one, but it looks incredible.
I can't wait to start it.
I totally wasn't expecting to get this one
either,
which
made it that much better.
That's all for me. What did you get? Have you read any of these? Let me know in the comments and be sure to link up.
Love,
Danica Page