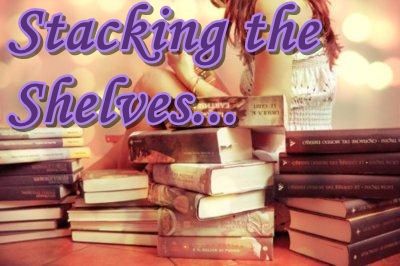 Hello Fellow Readers,

This is my twenty-fourth time doing In My Mailbox and Stacking the Shelves. IMM is a meme hosted by Kirsti from The Story Siren and Stacking the Shelves is a meme hosted by Tynga's Reviews.
The point of this meme is to share what books you received in the previous week through any medium.
Books I borrowed from the library:
Library, I take back all the mean things I've said about you in the past. Today I found awesome books there. I finally got to catch up on a lot of series I've been getting way behind in. :)
Asunder (Newsoul, #2) by Jodi Meadows
YA
Graceling (Graceling Realm, #1) by Kristin Cashore
YA
Insurgent (Divergent, #2) by Veronica Roth
YA
Perfect You by Elizabeth Scott
YA
The Sweetest Spell by Suzanne Selfors
Asunder-I just read and loved Incarnate. My review of Incarnate is here.
The Chaos-
I read
Numbers
months after it first came out and am
so glad I finally get to read the sequel.
Anna Dressed in Blood-I've heard great things about this one. Can't wait
to start reading it.
Insurgent-I read Divergent a month after it first came out and have been dying
to read Insurgent ever since, so glad I finally get to read it.
Graceling-I've had my eye on this one for awhile now. It just looks so great.
Perfect You-I recently read Something, Maybe, my first Elizabeth
Scott novel and loved it, so I can't wait to read this one. My review
of Something Maybe is here.
The Sweetest Spell-It was one of my WoW picks a few months back.
The idea of someone turning milk into chocolate just sounds intriguing.
Books I
received for review:
Nantucket Blue by Leila Howland
(Netgalley)-YA
Dualed (Dualed, #1) by Elise CHapman
(Edelweiss-YA)
Right of Way-I just love road trip books and I've heard this author
is incredible. Can't wait to read it.
Nantucket Blue-It sounds like a fun summer read. I'm reading it in the heart
of winter, but oh well. I won't get to read books this summer anyway.
Books I bought:
I bought a lot of e-books this week. I kind of went a little crazy, but :). They were all $2 or less.
Veer (Clayton Falls, #2) by Alyssa Rose Ivy
New Adult-My review will be up later this week.
Easy By Tammara Webber
New Adult-My review will be up later this week.
Next year in Israel by Sarah Bridgeton
New Adult
Impulse (Faces of Evil, #2) by Debra Webb
Adult-
My review will be up later this week.
The Truth about Faking by Leigh Talbert Moore
YA
Trying to Score (Assassins, #2) by Toni Aleo
Adult
Veer-I love Alyssa Rose Ivy. I loved Deralied (
My review
is here
.
), as well as her
other series.
I loved the sequel and am excited to read the third in the series.
Easy-I had heard really good things about this book and so I was excited
to read it. It didn't disappoint.
Cross my Heart-It was free so why not?
Lyrics of the Heart- It was free and I love Alexandra Lanc.
Definitely excited for this one.
Next Year in Israel-It sounded interesting, Amazon recommended it
for me, and it's got good reviews. So I decided why not.
Impulse-I loved Obsession. My review of that novel is here.
I couldn't wait to read this one, and I loved this one too. It was fabulous.
The Truth about Faking-I just thought it looked good and so I
figured I'd give it a shot.
Trying to Score-I read the third one as part of a blog tour and
then decided I wanted to read the previous ones in the series,
so I bought book 2. Here's m
y review of
book 1
and here's my review of
book 3
.
That's all for me. What did you get? Have you read any of these? Let me know in the comments and be sure to link up.


Love,
Danica Page